Key Characteristics of Suitable Locks
---
This section provides a summary of the key characteristics of a suitable locks within the workplace to secure dangerous materials and environments.
---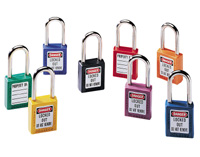 Locks must be made by a reputable company and should be constructed with sufficient strength and quality to withstand industrial use.
Combination locks, or locks with master keys are not recommended.  If duplicate keys are obtained, they must be kept in a locked depository away from the "Safety Lock Control" Centre.  Duplicate keys must be under the direct control of a responsible person such as a safety officer, and is to be used only by the responsible person in an emergency.  At least two people should be responsible for using a duplicate key, and we recommend using a sign out sheet in the event that a duplicate key must be used.
Each worker must be issued his or her personal lock with his/her name or clock number stamped on it.  Where this is not practical, the locks should be kept at a "Safety Lock Control Board" and matched up with its corresponding serial number.  In this case, the locks should be under the control of a responsible person who must maintain a log including issue dates to which worker, sign out and sign in to register, and the name of the person in charge of the lock-out procedure.
Locks or keys must never be loaned out for any reason.
Workers should carry their own supply of durable tags that state their name and department.  These tags should be attached to their lock for identification while in use on the disconnect switch lock-out.
Each worker should be issued "Personal Safety Lock" instructions each time a lock is issued (see next page).  Procedures should be posted at the Safety Lock Control Board.
All locks must be maintained in good condition.
Never leave a key in a lock.  Take the key with you when lock is placed.
---